It's Mother's Day today. While we all agree that we don't need only one day to celebrate motherhood, this day still holds a special place in our hearts and encourages us to show love towards all mothers who relentlessly contribution to the well-being of her children.
Twinkle Khanna who is a mother of two took to Twitter last night to share what she wants on Mother's Day today, but it didn't go down well with Suchitra Krishnamoorthi.
In her video message, Twinkle Khanna talks about how she wants to be free from responsibilities on this day. She said she doesn't want to answer more questions.

"I want to be free from all responsibilities for an entire day. I don't want anyone to ask me any questions. Don't ask me where's your blue T-shirt, don't ask me which bottle your dragging toy has fallen into, don't ask me what is 15+73, don't ask me what will happen to your A-level exams, don't ask me what's for lunch, don't ask me when you can go and meet your friend Ishita, don't ask me when the lockdown will lift. Especially when my little one, when she doesn't get her way, looks at me and says bad mumma. Deep down I don't think I am a bad mom, I think I am a bad-a** mom, though I have a perfectly fine posterior," she says in the video.

As she shared the video, she wrote in the caption, "What mothers really want for Mother's Day but can't tell their kids. So what kind of mom are you — The bad mom, the badass mom or the badass mom with a good posterior?".

The post didn't go down well with Suchitra. Resharing it, she wrote, "Dearest @mrsfunnybones. Let's change r definition of bad ass woman shall we - how abt u ask how ur husband #AkshayKumar s contribution to #PMCaresFund has been utilized for peoples welfare during the #coronavirus crisis rather than what ur cook has put in ur sons Tiffin."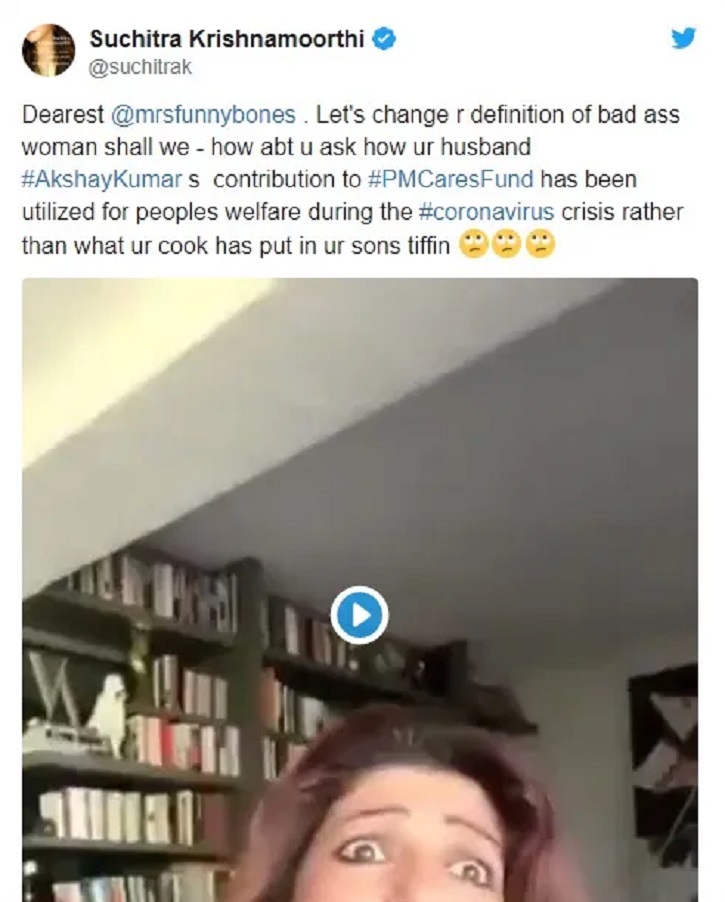 Furthermore, she bashed Twinkle Khanna on her Instagram posts as well. However, Suchitra Krishnamoorthi has now deleted all her posts.

source
https://www.indiatimes.com/entertainment/celebs/lets-change-our-definition-of-badass-woman-suchitra-krishnamoorthi-slams-twinkle-khanna-for-her-mothers-day-post-512882.html